When Experience Matters … 

Back Room Barber & Style, (Since 1996)
OPEN Tue, Thur., Sat. (some Fridays) By Appointment Only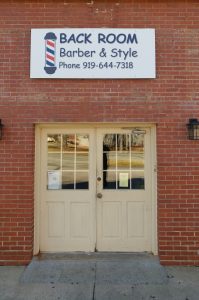 Effective Nov. 1st., 2020 Men's Regular Haircut $23.00
Effective NOV., 1st., 2020 – "All" Services Increase $5.
Accept: PayPal – Visa – Mastercard
OPEN   Tuesday, Thursday, Saturday
"Some" Fridays
"Always" By Appointment
Every Precaution is being taken for your safety during the continuing effects of COVID-19 on our community.  North Carolina Department of Health and Human Services has established Requirements and Recommendations which are available at the salon for your review. 
What to expect.  By Appointment Only
Emergency Maximum Capacity / Total Occupancy including staff and guests 3 (Based upon Square Footage) – (Other regulations and our own precautions remain in effect)
FACE Coverings as required by statue. Hand Sanitizer available
 https://files.nc.gov/covid/documents/guidance/NCDHHS-Interim-Guidance-for-Salons-Personal-Care-Businesses-Phase-2.pdf
Est.  1996, 

Back Room B

arber & Style, 

3510 U.S. Hwy 70 West, Efland N.C. 27243 

(919) 644-731eight  
Haircuts  –  Men's "Regular"   Men's Shampoo & Cut, Ladies Shampoo & Cut,
(additional charges may occur for longer, or more time requirement)
Hair Color –  Single Process / Application, Foil Highlights
Perms / Body Waves
Hair Replacement Maintenance Services
Hair Replacement Sales & Service  EFFECTIVE 12-21-17 We no longer   "cut-in" (or "cut" in any way)  any "system" purchased from another vendor, no exceptions.
By Appointment Only 
(919) 644-731eight
Accept: PayPal – Visa – Mastercard
When Experience Matters … 

Back Room Barber & Style, (Since 1996)